No matter what the event, a little sparkle can add the perfect touch of elegance and sass! Glitter can create so many different effects and styles to match any theme or decor, depending on how it's utilized. 
Glitter vases are commonly used at weddings and showers, and make beautiful centerpieces. They're so easy and inexpensive to make, and you can use this technique to add glitter to almost anything! Candlesticks, drink ware, wooden letters... the possibilities are endless. 
So if you're interested in adding some sparkle to your events, follow our super easy DIY steps below to unleash your inner glitterati!
WHAT YOU'LL NEED:
Clear Vases, Candle holders, Champagne flutes - (or whatever you're going to glitter), I get mine from the Dollar Store or you can re-purpose something old you have lying around.
Mod Podge Sealer -  available at your local craft store, Walmart, or amazon
Glitter - use chunky, coarse, or fine glitter, or a mix, depending on the look you want.
Foam Brush - very inexpensive foam brush available at any craft or hardware store.
Painters Tape - Optional, use if you'd like to make clean lines and sections
DIRECTIONS:
1- Prep your area by laying down newspaper, or a large disposable foil roaster as the glitter can be messy!
2- Use tape to section off area you'd like to glitter, if you're not going to glitter the entire surface. (optional)
3- Use your foam brush to apply a thin coat of Mod Podge to the area you'd like covered in glitter.
4- Generously sprinkle the glitter all over the area covered in Mod Podge. Do your best to cover all areas and not leave any blank spots without glitter. It'll still look spotty at this stage, but don't worry! Shake off any excess glitter.
5- Let the Mod Podge dry completely, until it's clear. It'll take a few hours, depending on how thick the Mod Podge was applied. Once it's not sticky, clear, and dry to the touch, you're ready to continue.
6- Apply a second thin coat of Mod Podge over the previously glittered area
7- Apply a second generous coating of glitter over the freshly Mod Podged area, and shake off the excess glitter.
8- Let the second coat of glitter dry another few hours
9- Once completely dry, you can leave it as is, or choose to apply a final coat of Mod Podge to seal in the glitter and prevent flake off. The extra coat of sealant provides a smoother texture and keeps the glitter on much better, but dulls the shine of the sparkles. So the choice is yours based on your needs and preferences whether or not to apply a final coat of Mod Podge.
10 - Once last coat is dry, remove the painters tape (if used).
This technique can be used to add glitter to almost anything! It will work on glass, plastic, wood, and essentially any sturdy base. If you choose not to apply a final coat of mod podge at the end, you'll have more glitter flake. The final coat keeps everything well lacquered and it wont flake off on your hands or furniture.
ENJOY!
Here are some beautiful glittered pieces for some design inspiration! Use coarse, fine, or textured glitter, and change up vases and shapes for a fun and unique look. *If you glitter the inside of a vase, be sure to add a smaller vase inside holding any liquid, don't let the vase hold the water directly.*
The possibilities are endless...
Image from : http://www.thesweetestoccasion.com/2012/07/diy-glitter-vases/
Image from : http://lisawola.blogspot.ca/2015/02/how-to-diy-simple-wedding-centerpieces.html
Image from: http://kastyles.co/diy-glitter-mason-jar-tutorial/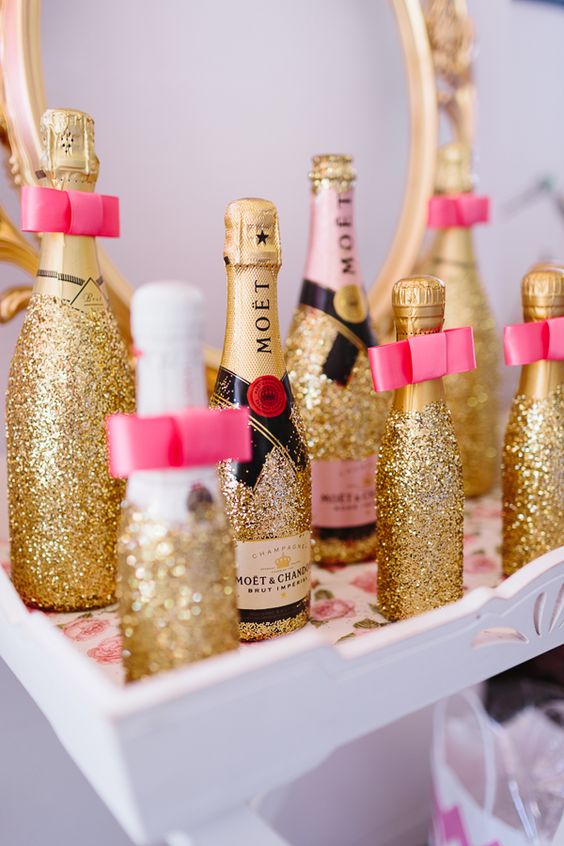 Image from : http://blog.weddingstar.com/diy-wedding-wednesday-pattern-play-mini-vase-sets/